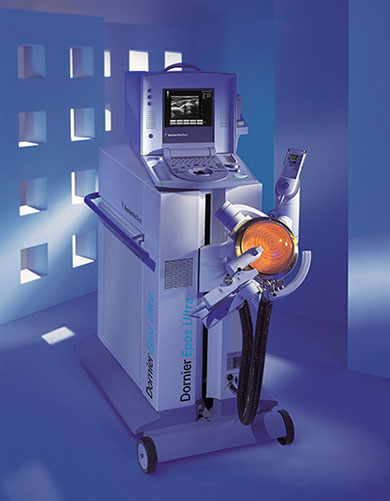 Extracorporeal Shockwave Therapy (ESWT) is a U.S Food and Drug Administration (FDA) approved non-invasive, non-surgical treatment option for intense, persistent heel pain associated with Achilles tendonitis and chronic plantar fasciitis.
Benefits of ESWT:
You don't have to be out of work; you can walk the same day
Compared to invasive or endoscopic surgery, ESWT has fewer side effects and much shorter recovery time with patients returning to light activities within a day and normal activities at approximately four weeks. Surgical patients typically require casting and may be off work for approximately six to eight weeks; with Shockwave you walk out of the office directly after the treatment!
Benefits
Non invasive
Reparative high energy protocol
FDA approved
Clinically proven in multiple randomized and placebo controlled studies
Safe and effective - Over 90% reduction in pain
No surgery
No hospitalization
No loss of time from work
Resolves pain from failed surgery
How ESWT works:
Shockwave therapy reactivates the bodies natural healing process
Scientific answer: During the treatment, the shockwave is delivered to the specific body part. The shockwave stimulates or reactivates the healing processes though microdistruptions of vascular or minimally vascular tissues to encourage revascularization, release of local growth factors, and the recruitment of appropriate cells conducive to more normal tissue healing.
So what does that mean ?? Basically, shockwave treatment uses sound waves to break up the scare tissue just like sound waves can be used to break up a kidney stone. Once the process is complete, it renews blood supply to that part of your body and then your body takes over and does the rest by healing from the inside out! We have found that this treatment is 90% effective in relieving persistent heel pain. Those suffering from pain in the arch of their foot or their heel or have an established diagnoses of plantar fasciitis or Achilles tendonitis are candidates for this treatment.
Conditions ESWT treats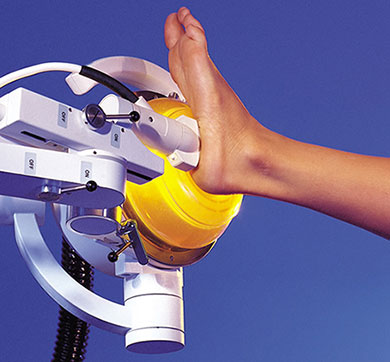 Plantar Fasciitis
Plantar Fasciitis is one of the most common causes of heel pain. It causes a stabbing pain in the heel, usually happening when you wake up. Once the foot is warmed up the pain usually gets better, but it can return
​Plantar Fasciosis
Plantar Fasciosis has similar symptoms to Plantar Fascitis but it is caused by the degeneration of the plantar fascia. We offer a wide variety of treatment options for this as well.
Achilles Tendinitis
Achilles tendonitis is an inflammatory, acute, repetitive stress injury of the Achilles tendon, commonly affecting athletes and active individuals.
Achilles Tendinosis
Achilles tendinosis is a persistent or even chronic condition which lasts more than a few months and involves pain at the back of the ankle along the Achilles tendon.
Rochester Podiatry offers a wide variety of treatments for all of these conditions including heel cushions, rest, physical therapy, night splints, custom orthotics, non-steroid medications and ESWT. With many different treatment options available, our knowledgeable and experienced team will work with you to determine the best solution for your particular situation.
Extracorporeal Shockwave Therapy (ESWT)